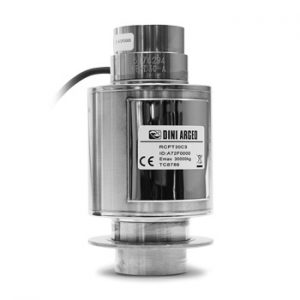 The CCATEX certificate makes the load cell suitable for use in hazardous areas with protection methods according to:
ATEX II 1G Ex ia IIC T6 (Ta -20÷+40°C) TX (Ta -20÷+65°C) Ga
ATEX II 1D Ex ta IIIC TX°C (Ta -20÷+40°C) TX°C (Ta -20÷+65°C) Da IP65.
The certificate includes the manual and the ATEX CE conformity declaration (available in EN, DE, FR, and IT).
IMPORTANT: the certificate refers to the single load cell. For systems with more load cells, it is necessary to order one certificate for each load cell.


Wiring Code

Coluor

Function

GREEN

OUTPUT +

WHITE

OUTPUT -

RED

INPUT +

BLACK

INPUT -
Column load cell for CE-M approved weighbridges, tanks, silos, etc.

---
CAPACITIES (kg): 20000, 30000, 50000.

---
OIML R60. C3 precision class.

---
Special alloy steel body with STAINLESS steel external casing; manufactured with laser solderings. IP68 protection.
---
| | |
| --- | --- |
| | MAIN FEATURES |
C3 PRECISION CLASSES.
SPECIAL ALLOY STEEL BODY with STAINLESS STEEL EXTERNAL CASING; MANUFACTURED WITH LASER SOLDERINGS.
OPTIMISED FOR PARALLEL CONNECTION.
IP68 PROTECTION DEGREE.
CAPACITY FROM 20000 TO 50000 kg.
SHIELDED 18m CONNECTION CABLE.
TEST CERTIFICATE AVAILABLE UPON REQUEST.
FITTED WITH SELF-ALIGNED ARTICULATED JOINTS, SELFCENTERING PLATES AND PROTECTION WASHER (version with cups).
| | |
| --- | --- |
| | TECHNICAL FEATURES |
Minimum load cell verification interval: Vmin = EMax / 10.000
Maximum number of load cell divisions: nLC = 3000 (C3)
Sensitivity: 2mV/V +/- 0,1%
Temperature effect on full scale: 0,002% /°C
Temperature effect on zero: 0,002% /°C
Compensated Temperature Range: -10°C/+40°C
Operating Temperature Range: -30°C/+70°C
Creep error after 30 minutes: 0,02% F.S.
Excitation voltage from 5 to 15 VDC
Input Resistance: 700 ± 20 Ohm
Output Resistance: 703 ± 7 Ohm
Zero Balance: +/-1% F.S.
Insulation Resistance: >5000 MOhm
Safe Overload: >150% F.S.
Ultimate Overload: 250% F.S.
4-wire shielded cable, 5mm diameter.